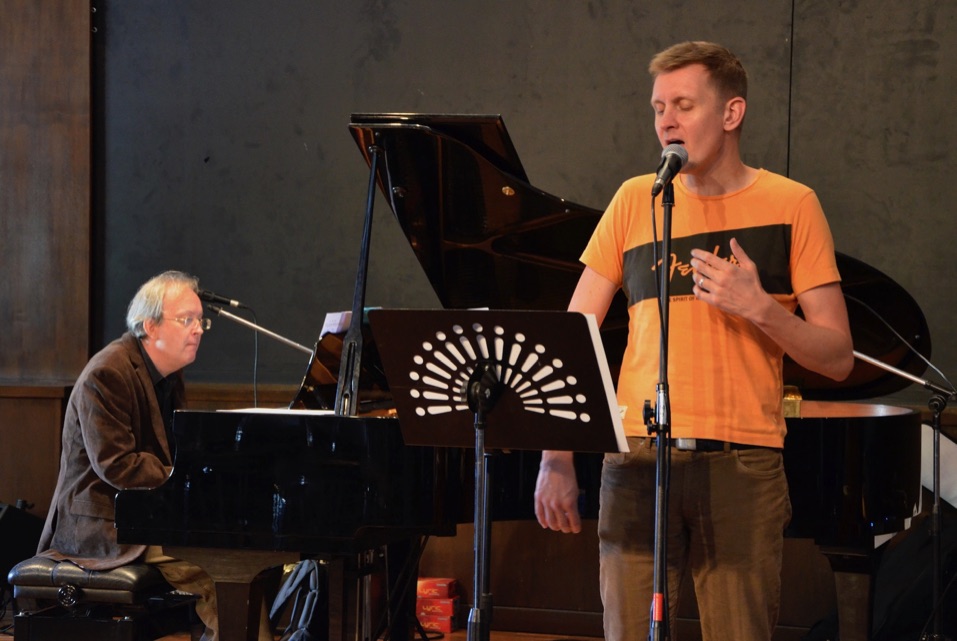 Dr. Thorsten Wollmann & jazz vocalist Prof. Michael Schiefel
Works for jazz orchestra
SIDDHARTHA 
(based on a novel by Hermann Hesse)
for soloist: b-cl/fl/as/ss, big band & strings
performed as "WDR Nachtmusik", Frank Gratkowsky (soloist), Jiggs Wigham (conductor),
Ensemble from Musikhochschule Köln
SUITE OF DREAMS
I. Dreams of the Past II. Dreams of the Future
III. Dreams of Love & Death IV. Awakening
for jazz quintett (tp/flgh/piano, cl/b-cl, vib/piano, bass, drums) & orchestra
recorded by Thorsten Wollmann Quintett & WDR Rundfunkorchester, David de Villier (conductor)
LYRIC SUITE
I. Salaam Bombay II. Horizons
III. Lament for a dead King
IV. Far Cry V. Falling Leaves
for jazz ensemble & small orchestra
performed and recorded by WDR with the Thorsten Wollmann Quintett & Orchestra,
featuring John Taylor (piano), conducted by the composer
PIMONMAS
LES VAGES ROUGES
for jazz ensemble & strings
OUVERTURE FOR JAZZ ORCHESTRA (Geckoverlag Köln)
commissioned & first performed by Bamberg Symphony Bigband
AOTEAROA / New Zealand
I. The Doll's House (based on a short-story of Katherine Mansfield)
II. Dolphins & Whales  III. Fjordland
IV. Waitomo  V. Rangiheata
VI. Whakaari
WDR-production for jazz orchestra and soloists
recorded by WDR-Big Band & 2 horns, percussion
featuring Hayden Chisholm (N.Z.), as & Henning Berg, tb
conducted by the composer
COLOURS OF SIAM
Variations on a Thai Theme, Northern Thai Song
Song for Janine, Rainy Season, Pagodas
Between Islands, Tropical Night
"City of Angels"
I. Traffic Jam II. Chinatown III. Night Sketch
IV. Pahurat V. Bangkok Ways
WDR-production for big band + mallets, percussion & soloist
performed & recorded by WDR-Big Band, featuring Hayden Chisholm as/ss
conducted by the composer
POSTCARDS
New York Shuffle, Departure of an Angel, Cologne After Dark
Hawaiian Sunrise, Dancing in Venice, Island Groove
Reflections in a Lake, Mongkok Funk
HR-production for jazz orchestra
recorded by HR-Big Band, conducted by the composer
SYMPHONIC JAZZ CONCERT
Waiting for a Princess, Out of the Clouds, Igor's Dance
Stan gets a new Samba, Departure of an Angel
for jazz orchestra (woodwinds, hn, strings, g, p, b, dm) and soloist
performed at the International Music & Dance Festival in Bangkok
featuring Koh Mr. Saxman, conducted by the composer
WORLD OF INNOVATION
I. Europe II. North America III. Africa
IV. South America V. Australia
VI. Asia VII. Finale
for orchestra, big band, Taiko ensemble, soloists & multi media
performed & recorded on CD by Bosch Musikgruppen
AROUND THE WORLD IN FOUR SEASONS
I. Spring in Western Australia
II. Summer Nights at the Copacabana
III. Autumn Colours on the Island of Honshu
IV. Winter Joy in the Alps
for big band, strings and soloist (tp/flgh)