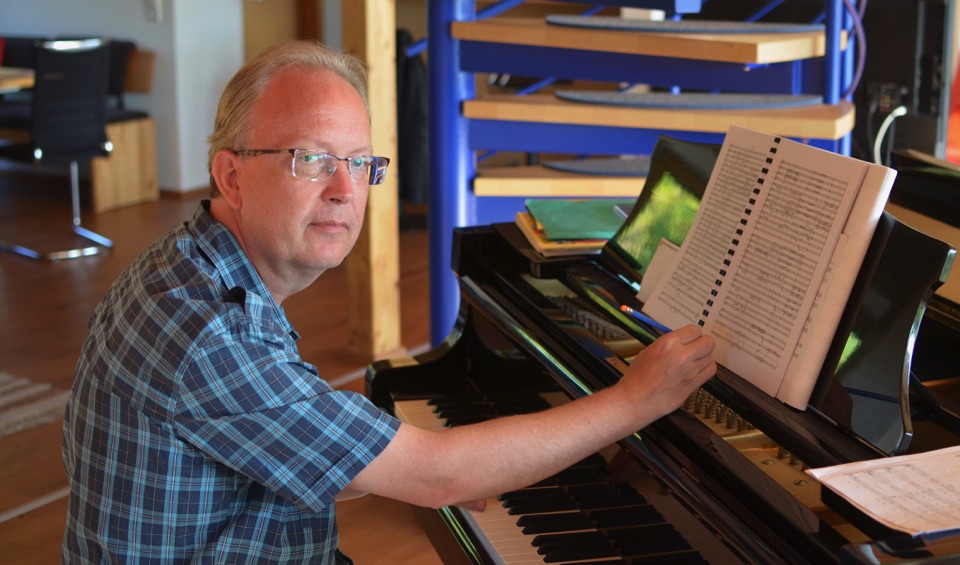 Dr. Thorsten Wollmann was born on February 10th, 1966, in Laupheim, Baden-Württemberg, Germany. He graduated with a Master Degree (Magna Cum Laude) from Musikhochschule Köln (The Cologne School of Music), majoring in composition and jazz trumpet, minoring in piano. His final exam concert in 1994 was recorded and broadcasted by the West German Radio (WDR). After postgraduate studies in harmony and counterpoint he moved to Chiang Mai, Thailand, where he worked as a University lecturer for the DAAD (German Academic Exchange Service). Thorsten completed his doctorate in classical composition at the University of Auckland in New Zealand in 2005. The composer was awarded with the Philip Neill Memorial Prize of the University of Otago in Dunedin, New Zealand, a Best Original Soundtrack Award for his film score for New Zealand short film Promenade and he received a Doctoral Completion Award for his portfolio of compositions.
Thorsten is also a jazz soloist on trumpet and flugelhorn. He was a member of the Youth Jazz Orchestra Baden-Württemberg, the National Jazz Orchestra, the National Jazz Septet, the German-Scandinavian-Project and the Südpoolensemble. On tour concerts he performed in West Africa (Niger, Benin, Togo, Ghana, Nigeria, Cameroon, Central African Republic), Southeast Asia (Thailand, Indonesia, the Philippines), India, Mexico, Portugal and Spain. His own band, the Thorsten Wollmann Quintet, performed for the South German Radio (SDR), the Southwest German Radio (SWF) and with the Cologne Radio Orchestra for the WDR.
More recently he likes to play the piano in his own jazz trio.
As a composer he wrote commission works for the Cologne Radio Orchestra, the jazz orchestras of the WDR, HR, NDR, SWR & SDR (German broadcasting), the jazz soloists Bobby Shew (USA), Tom Harell (USA), and John Taylor (UK), the German Jazz Orchestra, BUJAZZO, the German Music Festival, Bosch, Ensemble Pyramide (Switzerland), Duo Concertante (Cologne), LBO Baden-Württemberg, the Trumpet Ensemble of Musikhochschule Trossingen, Saxoforte, the Südpool Ensemble and Bamberg Symphony Big Band. His music has been performed and recorded by the New Zealand Symphony Orchestra, Auckland Philharmonia, Karlheinz Company (Auckland), New York Philharmonia, Universal Studios Orchestra (Hollywood), Broadcasting Orchestra Sofia (Bulgaria), North University Choir (Thailand), Salamander Big Band (Indonesia), Symphonic Band of the Franz Liszt Academy (Budapest) and the Anton Bruckner Conservatory (Austria), Banda Sinfonica de la Provincia (Argentina), Tango Fuego (Germany/Argentina), Due Boemi Di Praga (Czech), and classical pianist Bennett Lerner (USA).
As a conductor he has been invited by orchestras, chamber ensembles, wind bands, big bands and choirs to conduct his own compositions.
From numerous CD-publications containing his own works there are five under his own name: "Cycles" (Duo with Wolf Kerschek), "The Characteristics of Water" (composer portrait), "Lost in Clubs" (Jazz Sextet), "Africa Suite" (Thorsten Wollmann Jazz Orchestra) and "Colours of Siam" (WDR-Big Band, available from www.inandout-records.com).
He also composes for film (in 1996 he was invited as the only European composer to participate in the ASCAP-Film-Composer-Workshop in Hollywood) and moved to Los Angeles for the year 2013, where he pursued further postgraduate studies in film scoring at UCLA while working on various film and arranging projects.
Thorsten has written jazz compositions, tangos, children's songs, music for band, chamber music and symphonic music. Examples of his works are the "Africa Suite" for big band, "Around the World in four Seasons" for jazz orchestra, a "Concerto for Symphonic Band" (based on paintings of Paul Klee), "The Japanese Piano Trio", "The Thai Piano Book", "Aotearoa Symphony" for orchestra, and "World of Innovation" for orchestra, big band and soloists with multi media.
Thorsten Wollmann was awarded the Jazz Prize of the State Baden-Württemberg in 1992.